Easy and Inexpensive Chicks Coops
When building a chicken coop some of the best ones are the ones that you can have shipped to you for free and ready to assemble in your backyard.  When looking for the right chicken coop here are a few things to look for.
Pick a good spot in your yard for your coop. Make sure that you have easy access to it and it's in a safe spot for the chickens.

Measure your space and check the measurements of the coop you want to build or purchase before you plan on placing it in your yard.  You want to make sure that if you have a smaller space the coop will be able to fit.

PawHut Garden Chicken Coop 124″ Premium Dual Hen House Backyard Chicken Coop with 2 Outdoor Ramps Nesting Boxes Double House Chicken Coop | Aosom.com
Select a coop with all of the necessary items you need such as a nesting box for easy access to extract eggs, having enough room for your animals to roam around in, and a lockable door.

Most cages are acceptable for chickens, geese, ducks, guinea pigs, rabbits, guinea fowls and other poultry.

Make sure your cage/coop has easy access for cleaning the poop such as a slide out tray.

A ramp and sliding access doors are a great way for chickens to be able to get in and out of the coop.

Wire mesh is great for ventilation and possibly keeping foxes out of the cage.

The coop should be able to keep your animals warm enough and shelter them from cold winters and warm summers.

Build a chicken coop for the right capacity of chickens you wish to raise.  Make sure that the chickens are not too crowded. 

Use Green materials for a safe environment or if you prefer sturdy materials that will not harm your animals.
When purchasing or building a chicken coop it's important to know how many chickens you want to raise.  A coop can be expanded or added on to you just have to make sure that you are selecting the right design for your needs. 
Features and what we like about this one…
Easily connect additional pens (sold separately) for a larger living space

Includes nesting box with roosting bar

Made from wood houses up to 4 chickens or rabbits

Ramp for multi-level living space

Removable pan for easy cleaning

Two doors allows easy access to upper and lower areas

Made from wood houses up to 4 chickens or rabbits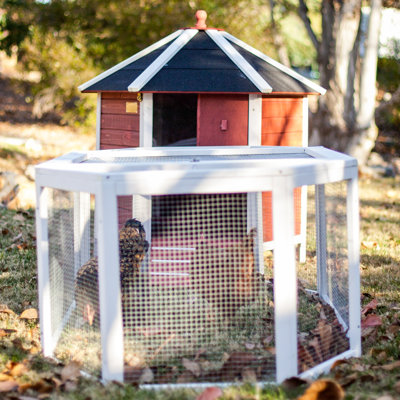 Includes a removable roof and hinged door on nesting box for easy access

Poultry hutch

Made with lightweight insect and rot resistant fir lumber

Ramp closes for complete containment

Window slides over to vent

Color: Auburn
Features
Hand built from sustainable harvested, naturally weather and pest resistant fir
Sized to comfortably house 4 hens
Best-in-class mesh-enclosed run area features chicken ramp for access to roost
Heavy, galvanized wire is secured using their unique, extra strength, wire-clamping wood design
All doors feature spring-bolt latches to keep hens safe from predators
Features
Chicken Coop, Nesting Box, and Backyard Run all in one
Great for rabbits, chickens, ducks, and other poultry
Sliding access door w/ramp for chickens to enter and exit
Large 2 section nesting box for easy food/water access and extract eggs
Easily portable that allows you to move the coop throughout your landscape
Perches design for comfortable living
Heavy duty galvanized wire helps keep chickens in and predators out
Removable side and bottom sliding tray/pan and opening roof also allows for easy cleaning access
Wood thickness: 10 mm
Door Size: 10″ L x 20″ W
Run Opening: 10.3″ L x 13.5″ W
Features
Made with ecoFLEX, a recycled wood/polymer blend that provides a non-toxic solution to your chicken raising needs
Resistant to moisture, warping, cracking and splitting
Maintenance Free
Removable roof
Comes with 2 roosting bars
Accommodates 10 ducks
Insulated
The barn has 7-8 ventilation slits on all four sides of the barn.
Does not need to be treated
Not pre-treated
Enclosure included: No
Bedding included: No
10 Year Manufacturer's Warranty