Review of The Leisure Arts Diamond Painting Holiday Christmas Tree Kit
Diamond painting is one of those crafts that you can't get enough of once you start creating your project! It's a great way to decorate the walls of your home especially for the holiday season!
Whether you enjoy paint by number, cross stitch, sewing, knitting or crochet like I do. The Diamond Art kits are another great way to relax and unwind before the holidays. Plus, they also make a great gift for any crafter to try!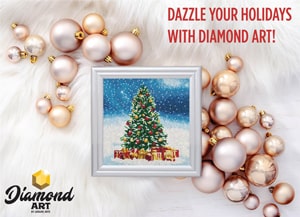 We're loving the Christmas Tree Kit with it's bright colors and pretty background. It's the perfect accent to frame and hang in your home!
In addition to the holiday Diamond Art kit available, there are also beginner kits, advanced kits, sparkle art, NFL kits and more!
How to use Your Diamond Art Kit
Diamond Art is also called Diamond Painting or
5D Pixel Painting or Gemstone Painting, this dazzling craft offers both relaxation and stress relief. Diamond Art by Leisure Arts is powered by Diamond Dotz and is crafted of premium materials creating a dazzling masterpiece in many styles and colors. You can easily paint by diamonds with glittering 13 faceted epoxy resin gems onto luxurious pre-printed fabric. Diamond Art is reinventing traditional puzzles with mindless dotting guided by a color-coded chart and you never have to worry losing a piece! Upon finishing your piece, frame your diamond painting or create your own customizable Diamond Art by attaching the finished canvas to fun items like clothes, tote bags, phone cases, and more!
Leisure Arts Diamond Art Powered by Diamond Dotz 5D DIY Diamond Painting Holiday Christmas Tree Kit – Details
Go non-traditional with your Christmas Tree this year and diamond paint this Diamond Art by Leisure Arts Holiday kit, powered by Diamond Dotz! Paint with beautiful 13 faceted diamonds onto high quality color printed adhesive fabric, fashioning your own shimmering artwork to decorate your wall. Each festive full drill canvas has over 11,000 gems that completely cover every square inch of our pre-printed design. Using easy-to-follow instructions and handy tools like a comfort grip stylus and wax caddy, you can dip, dot, and dazzle with diamonds. Greet your holiday guests with ornaments of gold and red when you dazzle this Christmas tree with diamonds!


Christmas Diamond Art Kit Contains:
1 high quality color adhesive printed fabric piece 
Fabric: approx. 15" X 15" (38.1cm X 38.1cm)
Design: approx. 12" X 12" (30.48cm X 30.48cm)
1 Stylus, 1 Craft Tray, 1 Wax Caddy, 1 Comfort Grip
Full Drill Canvases – Over 11,000 gems per design!
Complete Diamond Art easy-to-follow instructions
Conforms to EN71-3
Conforms to ASTM D-4236

Christmas Cat Diamond Painting Kit

Thomas Kinkade Seaside Hideaway Diamond Dotz®