One of the first things we may crochet when we first learn how to is a baby blanket or afghan for a friend or family member. We decide on what yarn to use and what colors would work best sometimes before even deciding on a pattern. Whether you choose your yarn first and than select your pattern or have a pattern and go and choose the right yarn a baby blanket is one of the easiest projects to crochet.
What Makes a Baby Blanket a Great Crochet Project?
A baby blanket is one of the easiest projects a crocheter can make because it is still large enough to view the details and texture of the pattern and reveal the stunning colors of the yarn while small enough to complete in a weekend depending on your skill level.
While baby hats, booties, sweaters, toys and other items may be a bit
challenging and difficult for beginner crocheters to manage a blanket is always a great choice.
Crochet blankets make great gifts and are wonderful items to donate to charities.
Tips and patterns for Easy Baby Blankets
Select a soft yarn for baby. A thick bulky yarn works best for easy to and fast to crochet afghan patterns. It will take less yarn to make a blanket if the yarn is thicker.
Bernat Baby Blanket Yarn
Use a Q Size or Larger Crochet Hook with 2 strands of yarn held together to make a quick and easy afghan pattern or use the Large hook with a thicker yarn to create a fast project for baby.


Use a pattern that calls for double or even treble crochet stitches. This will work up quickly and easily for a fast, beautiful blanket.
Use one or two colors and keep it simple so you won't be changing colors too often or make it to challenging to crochet.
Choose a lighter color yarn. This will make it easier to see your stitches while crocheting. If you choose a darker color be sure to have a good craft light
or lighting Crochet hook to work with.


Select an easy baby crochet pattern
that you can follow. Most pattern will tell you the skill level when choosing your pattern. Look for a pattern that is marked Easy and read through the pattern before your begin your project to make sure you understand the instructions before beginning it.
Join support crochet groups on Facebook or communities such as Raverly in case you have questions about a pattern or need help finding something crochet related.
Here are a few crochet baby patterns to check out…

Granny Squares Baby Blanket by Edie Eckman

Train Blanket Crochet Kit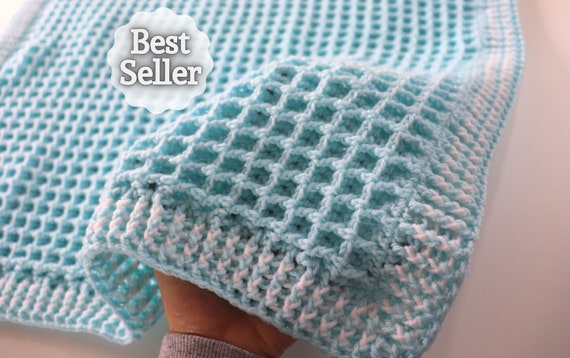 Crochet Easy Waffle Baby Blanket Sirin's Crochet