How to Create a Wedding Photo Scrapbook Album with the All-in-One Complete Wedding Easy Album Kit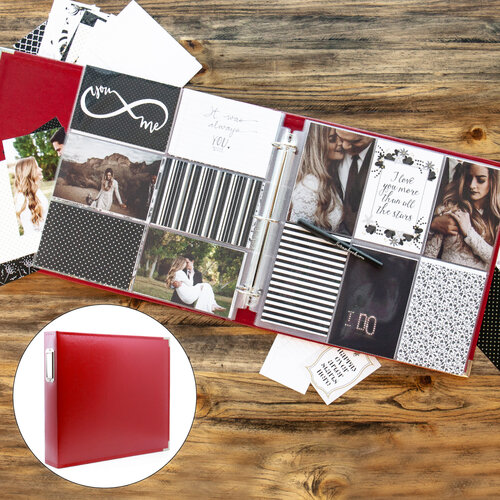 An easy and creative way to create your own wedding photo album from your engagement, bridal shower, wedding photos, gift opening, honeymoon and more!
If you click through my links and buy something, I will earn a commission and you will support my yarn and craft habit. Thank you.
You don't even have to be a crafter or an artist to create your own beautiful handmade scrapbook.
These all-in-one kits includes everything you will need to make a complete wedding album quickly and easily in no time at all! Plus, you can create them in a variety of colors choose your album color here…
No scissors, no tape, no glue and no experience required. This complete kit includes a premium, full-sized mint-colored scrapbook album, 36 wedding-themed cards, 36 lined journaling cards, 15 sleeve pages, an instructional booklet, and a pen. Just insert your favorite photos, themed cards and journaling cards into the sleeves and voila! – a spectacular, customized wedding album!
Easy This is the perfect kit for those who would love to create a photo album, memory book, or scrapbook and simply don't know where to start. All you have to do is print standard 4″ x 6″ photographs to slip into the sleeves alongside the theme cards and journal cards. We even include a helpful instruction booklet filled with guided steps, ideas, and inspiration.
Fast  On average, a full 30-page album takes 32 hours to complete. With an Easy Album Kit, you can create 30 unique, memory-filled pages in as little as one hour!
Affordable A traditional completed scrapbook page costs approximately $8.15 in supplies. With 30 full pages, an album, and protective sleeves, it can cost roughly $275 to finish an album. With the Easy Album Kit, you have all the supplies you need to complete a full scrapbook album for just a fraction of the cost.
Handmade  Create something unique, original, and handmade to proudly show off to friends and family. Add photos and cards in the sleeves, mix and match, and move around as much as you like until you have a truly stunning scrapbook album made by hand!
What Your Easy Album Kit Comes With:
One premium 12″ x 12″ three-ring album in Mint faux leather

36 double-sided wedding and honeymoon theme cards (24 that measure 4″ x 6″ and 12 that measure 3″ x 4″)

36 double-sided lined journaling cards (24 horizontal and vertical cards that measure 4″ x 6″ and 12 that measure 3″ x 4″)

15 Pocket Style Sleeves (5 with 4″ x 6″ Horizontal Pockets, 5 with 4″ x 6″ Vertical Pockets, 5 with a mix of 4" x 6" and 3" x 4" pockets)

One black Journaling Pen

Instruction booklet with ideas and examples
Create spectacular, customized scrapbook albums in no time at all with our exclusive Easy Albums! These all-in-one kits are the perfect project or gift for those who would love to create a photo album or scrapbook and just don't know where to start. No scissors, tape, glue or experience required to create lasting memories! Pick up a wedding, baby, vacation, or Disney-themed Easy Album for yourself or a loved one to make a simple, fast, and affordable handmade creation!  Learn More 
How to Create a Wedding Photo Scrapbook Album with the All-in-One Complete Wedding Easy Album Kit