Tunisian Afghan Kit Club
Annie's has launched a brand-new crochet afghan club called the Tunisian Crochet Afghan Kit Club. Annie's Tunisian Afghan Kit Club allows crocheters to learn the fascinating technique of Tunisian crochet and 27 types of stitches!
This post may contain affiliate links, meaning that I may earn a small commission if you make a purchase.
Speed of Crochet Textures of Knitting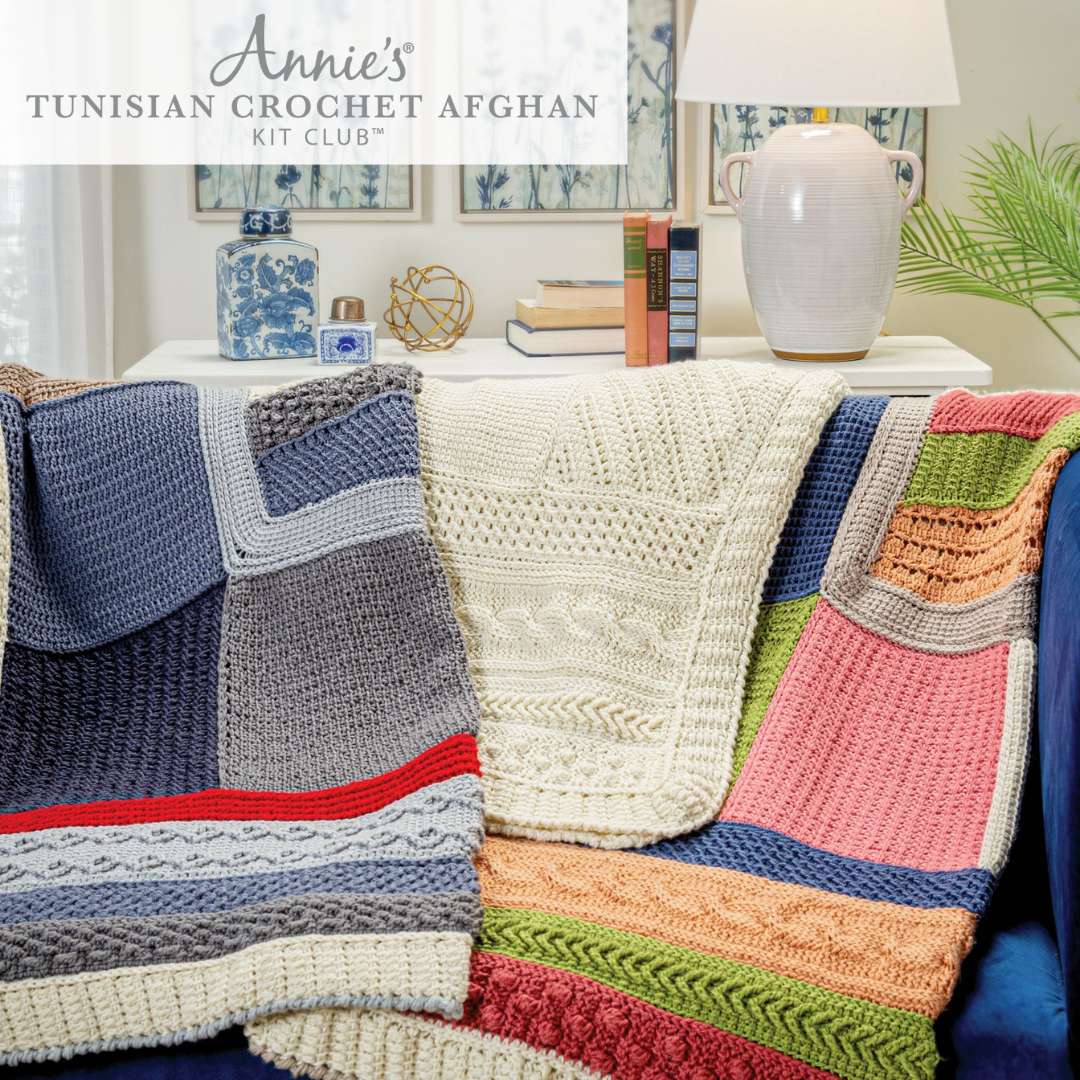 We love the Tunisian crochet because it gives the speed of a crochet hook, but your work resembles the beautiful textures of knitting.
What You Get with the Tunisian Kit
You will receive all of the yarn, full-color patterns, and video tutorials (taught by Tara Orchard) you'll need within each kit. As a special bonus for joining, their first kit will also include a digital stitch guide and a Tunisian Crochet Starter Pack that includes:
• 6.0mm, 6.5mm, and 7.0mm wood Tunisian crochet hooks with 24″ clear, flexible cables permanently adhered
• 10 locking stitch markers
• Tapestry Needle
You will love that you can hit the ground running as soon as they receive their first kit in the mail. No need to go to the store and find a Tunisian crochet hook or research how to work Tunisian stitches!
Choose between three colorways: Americana, Natural Pearl, and Wildberry.
A Unique Way to Crochet
The speed of a crochet hook meets the smooth textures of knitting in this special technique that's unlike any other crochet stitch. The timeless Tunisian style is trending in the crochet community—and it's never been easier to master!
Check out Annie's Tunisian Crochet Afghan Kit Club. It is a monthly subscription packed with everything you need to crochet this beautiful sampler afghan. Perfectly paced, this 10-month kit series is guided by detailed patterns and expert online video tutorials to walk you through every step. Your first kit even includes a free Tunisian hook!
Color Options
More Annie's Crochet Kits