Relax Outdoors this Summer and Catch up on Your Favorite Knitting or Crochet Projects under a SunnyDaze Décor Patio Umbrella
A Great Way to Spend Your Summer!!
Find the perfect umbrella for you to sit and relax this summer check out all of the available sizes, colors and styles here….
This post contains affiliate links and I may be compensated if you make a purchase at no additional cost
Here's a great way to create a cool spot on your patio while you work on your next crochet or knitting project. Plus you can sit under it and enjoy gentle illumination at night with the solar-powered offset patio umbrella with LED lights. This way you can work all day or evening to complete your project and enjoy the great outdoors!
Take your crochet project, knitting project, or any craft that you can sit down and relax outside on the patio! It's a great way to unwind and relax while enjoying your yard and garden.
Fast & Free Shipping in the Contiguous U.S
Crochet and knitting are known to help you take your mind off everyday stress and worry. What makes it even better is to enjoy it outside. But it may be a bit warm outdoors to have yarn sitting on your lap while you work. That's where the umbrella comes in handy. Add a bit of shade to your patio and use your favorite table and chairs or lounge seating to sit under an umbrella during the day or evening and work on your projects. 
Check out a few of these great umbrellas for your deck, backyard and patio below. 

Pair them with your favorite outdoor dining table, or use them free standing next to a furniture set or favorite chair. There is a variety of colors and striped patterns to choose from
Check out our Favorite Umbrellas to Sit Under and be Creative
What We Like about the SunnyDaze Umbrella
With the easy-to-use cantilever and crank make it easy to open, close, and set up. Keep the solar offset umbrella closed when you're not using it by using the attached tie that features a handy hook-and-loop fastener. During the day, the solar panel will collect energy from the sun to recharge the batteries. In the evening, the charged batteries will power the LED lights to add a charming glow to your space.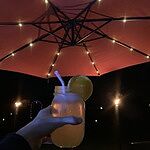 Beach umbrella accessories include an umbrella table that slides up the beach umbrella pole and provides room for drinks, snacks or phones or cameras; an umbrella hook that gives you a place to hang your towel, and an umbrella anchor that will sturdily hold your umbrella in the ground for hours of beach fun!