If you have a wooden bench
in your home or looking to purchase one at a garage sale or online adding a paint or fabric cover to it is easy to do with this fun and simple project. Once you have your wooden bench in place purchase some fabric and and batting, or paint/stain your bench for an indoor or outdoor sitting space.   Fabric and Batting for your Bench
Benches can be made for small spaces, large areas, for decorations, sitting areas, patios, gardens, entranceways and more. Just decide on where you want to place your bench before choosing a plan and use one of the patterns below to get started. 
Benches are an inexpensive way to decorate a patio, garden spot, or porch. They also make a great way to add additional seating inside and out without spending a lot of money. Making a bench
or buying an existing bench and adding your own finishing touches to it will create a unique one-of-a-kind item for your space. 
You can use two side table to make the bench also.  Check out the patterns below to make your bench and get started. Whether you are painting the bench, using fabric on your bench, or creating an bench for sitting on indoors or out these patterns will guide you to the right bench making plans for your project.  Great Garden bench ideas and indoor bench ideas..
Download this straight forward plan to make an easy wooden bench.
Add your own finishing touches with paint, stain or fabric for a great little bench.
These creative bench ideas are fun and easy to make. The projects including painting an existing bench to adding finishing touches on storage benches. Paint a Bench in an American theme, make a scalloped bench for a playroom, Create a storage bench for outdoor use or a bench for mom with these fun and easy free projects.  
Hopkins 2×4 basics 90140 Any Size Table or Low Bench, Sand
Take an inexpensive bench like this one found on Amazon for under $25 and add your own creativity to it by adding fabric, painting it, or decorating it for your outdoor patio, garden or even an inside sitting space.
Download plans to make your own garden bench to sit in outdoors. Using the right plans and wood will help your create the perfect place to enjoy your yard.
Another idea is to create a picnic table and matching bench. Use your woodworking skills to create something beautiful for your backyard.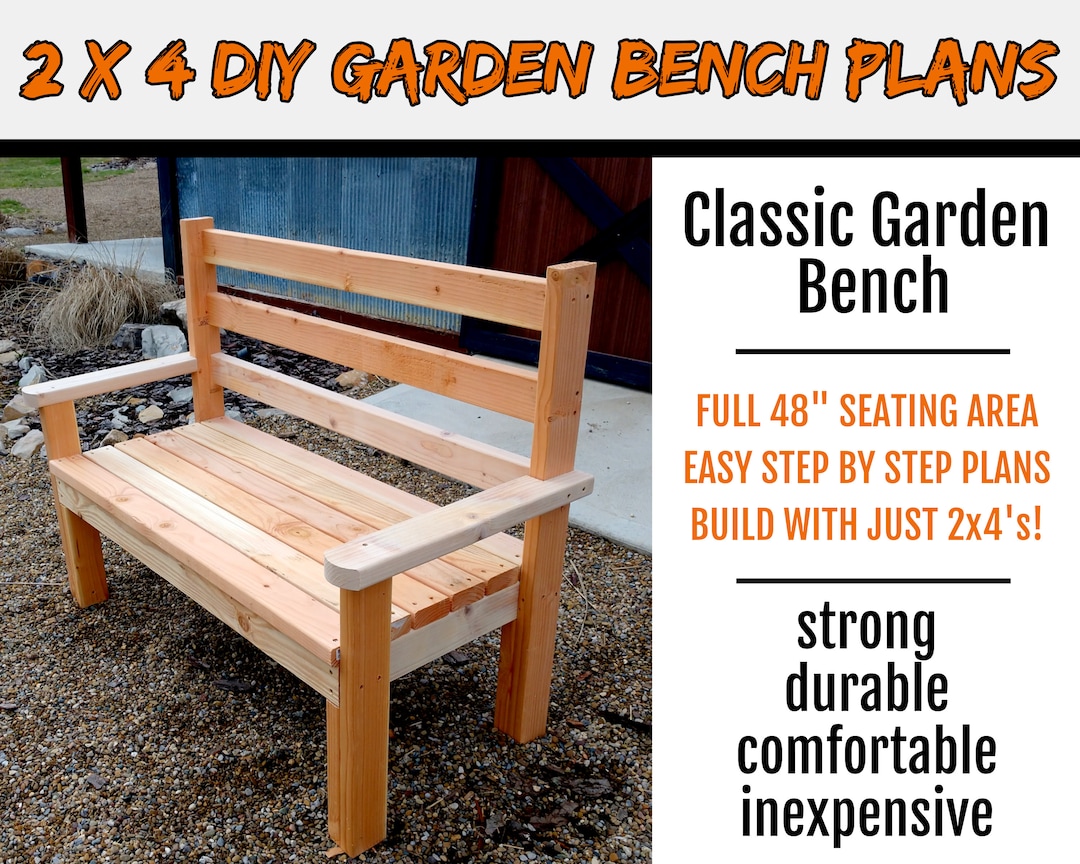 2 X 4 Classic Garden / Park Bench Plans