Crochet Baby Blankets
Discover the best sizes, colors and designs to crochet a baby blanket for a new baby, toddler or child. Choose the right pattern and start crocheting a baby blanket pattern!
How to Crochet a Baby Blanket
When you first decide to crochet a baby blanket you look for a quick and easy project to make to have it completed in time for baby. Most crochet baby blankets consists of easy stitches such as single stitch and chain stitch. Using a larger hook size will provide help the work go a little faster than it would normally.
note this post contains affiliate links
First you have to decide on the tools necessary to crochet your blanket. The most common tools are a crochet hook, tapestry needle, stitch markers, and soft baby yarn.
What's the Best Size for a Baby Blanket?
The average size for a baby blanket is 30 inches by 34 inches for a newborn or a receiving blanket. You will need about 3 (5 oz) skeins of baby yarn to complete a blanket this size.
The other sizes that you may want to crochet is a preemie blanket which measures approximately 26 inches wide by 34 inches long. Two to three skeins of yarn should complete this size project.
A toddler size blanket is the largest size of the blankets measuring 36 inches x 44 inches. This would require around 4 to 5 skeins of yarn.
What is the Best Crochet Stitch for a Baby Blanket?
Most baby blankets are crochet with a smaller stich such as a half double crochet or a single crochet depending on the pattern.
The half double crochet stitch is a great way to go if you are looking for the best crochet stitch for baby a blanket. The stitch creates fast and easy rows so you can crochet a blanket in no time at all! This simple stitch actually has one less step than the double crochet stitch, so it's easy to learn.
How Many Skeins of Yarn Do I Use for a Baby Afghan?
Depending on the size of blanket that you are making, a typical baby blanket will require 700 to 1500 yards or yarn (worsted weight yarn). If the average skein of yarn is 3.5 ounces and has 220 yards of yarn the blanket would take anywhere from 3 to 7 skeins. Refer to your pattern before purchasing yarn to find out what the suggestions are for the blanket you choose to crochet for baby.

A Star is Born: Naptime Yarn
Choosing the Right Pattern for a Baby Blanket
When you are selecting a baby blanket to crochet check with the parents to find out what color themes they are using for the baby room, if they are have a boy or girl and their style choice. There is such a wide variety of patterns available so selecting the perfect blanket is be a big decision.
One of our favorite pattern books is Our Best Baby Afghans to Crochet that has over 54 baby blankets to fit any style. The patterns include everything from Rolling Ripples, Easter Mile-A-Minute, Hearts and Bows, Simply Beautiful, Bubbly Ripples, Downy-Soft Zigzags, Lacy Granny, Puff Parade, Itsy Bitsy Spiderweb, Gentle Caress. Wee Irish Chain, So Huggable, Woven Stripes, Gentle Waves, Miles of Shells, Rainbow Ripples and many more!
There are a variety of baby crochet afghan patterns and kits available. One of the reasons we like the Best Baby Afghan Patterns book is that you can have the large variety of patterns on hand to use again and again throughout the years.
Crochet Baby Blanket Patterns and Kits
Choose from your favorite baby blanket patterns and kits below and get started on your baby blanket gifts for family and friends with new little ones on the way!

Crochet Kit – Sydney Baby Blanket

Baby Ripple Blanket

eBook The Little Encyclopedia of Baby Blankets

Sweet & Simple Baby Blankets – $4.99
Sweetly and simply, these baby blanket crochet patterns will be a hit at your next baby shower. They're quick-to-stitch and made using sport or medium worsted-weight yarn.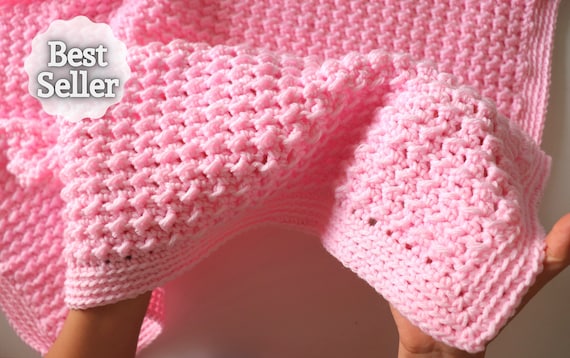 Fast and Easy Beginner Blanket Sirin's Crochet Instant