Before I learned how to Crochet
I learned how to Knit. Knitting was fun for me as a young teenager making scarves and creating things with yarn. I still own the first pair of knitting needles
I ever purchased and while now I may only take them out to knit a dishcloth or scarf from time to time, knitting did lead me to learn how to crochet.   I believe knitting helped me understand how to crochet and what things you can do with yarn.  I can read and understand crochet patterns and videos much better than I can knitting.  I enjoy crochet because of the many different stuffed animals, pillows, afghans, potholders, sweaters, and other items I can make with yarn.  While I can understand the joys of knitting with the beautiful sweaters, sock patterns and more I have a preference to crochet.
I learned how to crochet from watching others and an experienced teacher. Everyone learns differently.  You may want to find out what works best for you. My preference is to be taught by someone who explains the technique well, as I know that we all learn at a different pace and have different understanding of techniques and tutorials.
It can be fun to know how to knit and crochet because there are some similarities in both including reading patterns, different sizes of hooks and needles, yarn weight, patterns and understanding gauge size.
Learn to Crochet online Class – This is a well reviewed class on learning to crochet.
Learn all the basic crochet stitches while making 5 easy projects. You'll learn about hooks, yarns, reading patterns and more.
Here are a few suggestions if you are knitting and want to learn how to crochet:
1.  Start slowly with one crochet hook. I would suggest a Size H
or larger hook to get started. Use a Worsted Weight yarn that is easy to work with. 
2.  Find out if you learn better from video instructions or if your prefer to learn from a book or online class.  There are lots of YouTube Videos available some are easier to understand than others. 
3.  Join a crochet Facebook group that can help you out when you have a question or problem to solve in your crochet.
4.  Watch a few videos on how to crochet.  Everyone holds the hook and yarn differently. Find out what is comfortable for you.  If you are left handed look for left-handed videos and tutorials.
5.  Take an online class on learn techniques or skills for crochet.  This way you can be a part of a community and ask questions or go back to the class anytime you want to learn more or review a lesson.
6.  Find out if there are any local classes at your library, or online.
7.  Learn how to read and understand crochet terms and abbreviations. Once you have mastered this you will be able to read patterns and follow instructions carefully.
Teaches you everything you need to know to get started, from fundamental stitches to the importance of understanding gauge. You'll even learn how to read basic crochet patterns, so you can take these skills and follow any beginner pattern you like.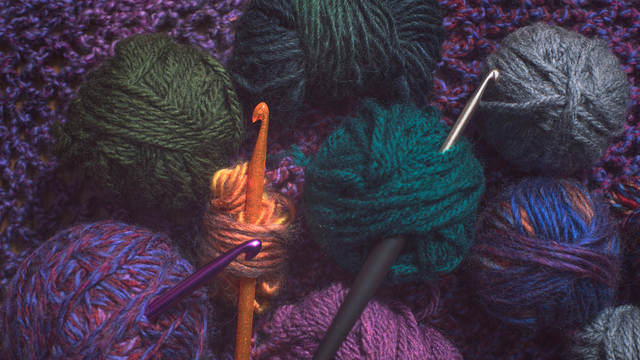 Learn How To Crochet.
Crocheted works are sculptural, creative, practical, and functional – sometimes all at the same time! If you've ever wanted to learn how to crochet or have simply been intrigued by and about the process of crocheting, 

Crochet Maker 101 with Vickie Howell

 is the class for you.