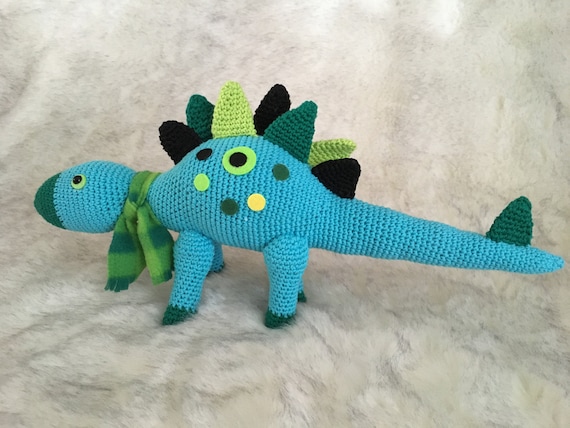 Stanley the Stegosaurus Crochet Dinosaur Pattern
Crochet Dinosaur with Polka Dots
This fun little guy was my latest crochet project and he couldn't wait to go outside and play!
While I have been crocheting for a long time I only ventured into creating
stuffed animal
recently. I thought that the patterns would be too difficult to follow but realized if I took my time and read the directions carefully I could complete a project. The key is to make sure to get a good pattern that is easy to understand and can be modified if you prefer.
I crocheted the above dinosaur and modified it from a pattern that was originally free (but is no longer a free pattern). You can view the original pattern
here on Raverly
.
Here are some steps to make help you when crocheting stuffed animals and toys.
1. Look for a good crochet pattern. Sure there are lots of free patterns available but if they are not written well and difficult to understand you can end up wasting your time or creating a monster!
2. Use the correct yarn. Make sure that you use a good yarn when crocheting a toy, especially if you plan on giving it to kids to play with. A
Worsted weight yarn
is always a good choice just make sure that a child does not have any sensitivities or allergies to a specific fiber you are using.
3. Make sure that you use a good stuffing. There are many
Polyester Fiberfill
stuffings
available again make sure there are no allergies that the person receiving the toy may have. There are eco-friendly and all natural ones available.
4. Follow the directions carefully and only modify the pattern if you feel comfortable doing so. Join a crochet group on Facebook or online and ask questions if you need help or assistance with pattern.
5. Trial and error – It took me getting use to reading a pattern before I started making toys. It's always a good idea to review and read through a pattern before you start crocheting it. That way you can familiarize yourself with the terms and learn if you will be able to crochet the project or not.
Here are some Crochet Dinosaur and Animal Patterns you may enjoy!