Crochet an Animal Baby Blanket Pattern
affiliate links
Crochet a baby blanket featuring an owl, lion, giraffe and monkey for your little one to nap on or cuddle with. Use a worsted weight yarn to crochet this pattern and be sure to wash the completed project in a baby safe laundry detergent
before giving it as gift. 
The four friendly animal faces on this adorable crocheted baby blanket are made in single Intarsia crochet. Intarsia crochet  sounds complicated but it's just a word meaning that you can view the pattern from both sides of the fabric. It does have a definite look on both the back and front side of the blanket. The front side has a more cleaner look while the back side may look a bit like a pixel image although it doesn't happen all of the time.  Since this is a crochet graph it just means you follow along the chart with the detailed crochet instructions.
You can learn more about this crochet technique on YouTube or your favorite crochet site. The patterns typically turn out well and look great when completed.
There are several patterns that use the intarsia crochet idea
Crochet Baby Blanket Patterns
It's easy and fun to make in single crochet intarsia. Chart reading skills are needed for this pattern. Design is made using worsted-weight yarn and a size H/8/5mm crochet hook. Finished size: 24″W x 28″L.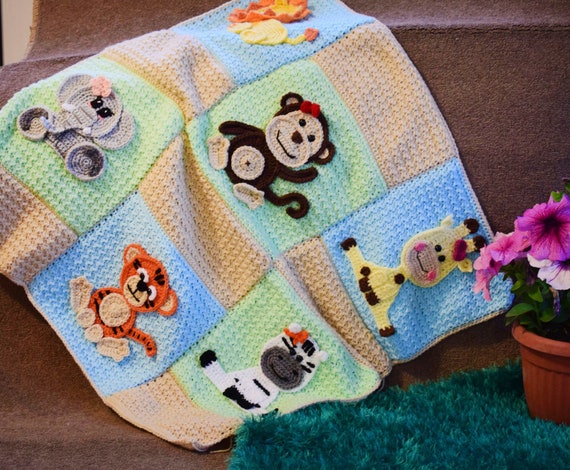 Crochet Pattern Crochet Baby Blanket Pattern Jungle Animal