Crazy Daisy Quilt Pattern Uses About 6 Yards of Scrap Fabric to Make the Quilt
Want to Make an easy quilt for a girls bedroom, your room or a guest room? Here's an easy way to use up your scrap fabric by quilting a Crazy Daisy Quilt.
The pattern calls for about 6 yards of scrap fabric
. Use your favorite colors in a background of white, spring colors, summer colors, neutral colors or whatever you prefer.
Assorted red, yellow, purple, orange, blue, aqua, pink and pastel scraps are suggested.
The pattern is available in print or download.
Any young lady would be thrilled to have this beautiful quilt on her bed. Using precut strips or scraps and a bit of fusible applique, you can have this completed in a snap. Finished size is 92″ x 108″.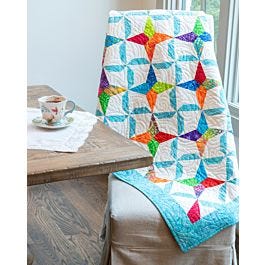 Crazy Daisy Quilt Pattern Uses About 6 Yards of Scrap Fabric to Make the Quilt