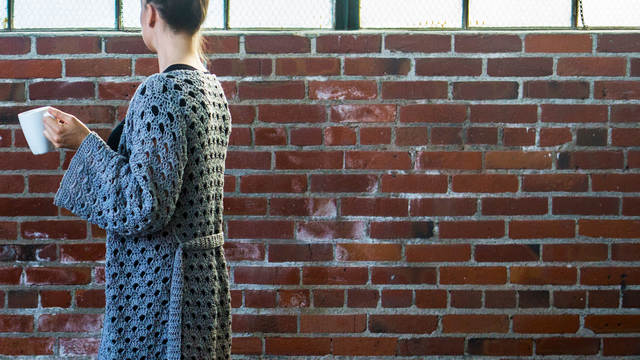 Learn how to crochet a beautiful sweater that you can wear, gift or sell online.
Crochet the sweater with a belt or wear it without the belt.
Sometimes mastering the skill of crocheting a sweater even if you are an experience crocheter can be a bit challenging. That's where helpful video classes come in handy for making beautiful sweaters like this Arcade Stitch Cardigan.  The lesson is provided by instructor and author Vickie Howell
who is known for the HGTV show Knitty-Gritty. 
Patterns for advanced garments can seem a bit overwhelming but this online video course will make it easy to understand and create a sweater for you to wear or to give as a gift.
Master crafter Vickie Howell is here to boost your ability and walk you through the creation of a cardigan!

Join us for this project-based class, and you'll learn:
How to crochet a cardigan from start to finish.

How to use the Arcade Stitch pattern.

How to add front edging to the cardigan.

How to adjust your sizing, from small to 3XL.
You'll walk away from this session with a beautiful cardigan to wear, gift or sell. Vickie's lesson plan will teach you to adjust your sizing, from small to 3XL, and develop the confidence to dive into other big crochet projects.