Free Dog Bed and Pallet Bed for your Pet  
When sewing a pillow for your pet there are a few things to remember before you start. First, select a sturdy, washable fabric that will be comfortable for your pet. A washable acrylic or fur fleece fabric will work well or any type of fabric you feel would be suited for your pet. As far as stuffing goes you can use
polyester stuffing
just make sure anything you stuff your pillow with is non-toxic and safe for your pet in case they decide to chew on it.
This post contains affiliate links
Another thing to make sure of when sewing a pet pillow is the size.  Be sure not to make it to large or to small and measure the area that you decide to place the pillow in also to reassure that it will fit. Your pet may enjoy an overstuffed pillow or one with less fluff so be sure you know what they like before you start your project.
DESCRIPTION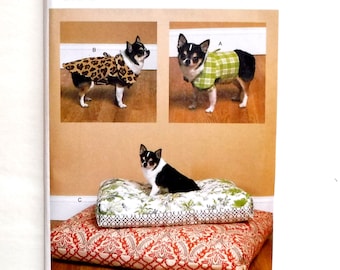 You can make a pillow in a variety of sizes including round, square, rectangle, or even the shape of of item such as bone or animal.  Check out some of the patterns and suggestions below before you start on your sewing venture for dog or cat.
 Pet Bed Insert for Stuffing
   your Round Pet Sewing Project – 
Airtex pet bed inserts are perfect for your DIY pet bed creations. You can personalize your decorative fabric and make a comfortable resting place for your pet.  The non-woven fabric cover is filled with 100% Polyester fiber for long lasting resilience and comfort.