Add Dimension to Your Next Project
Pops of Color Gloss Kit basic bundle lets you add quick & easy dots, drops, lines, designs, and so much more to every project! It's the perfect way to add eye-catching dimensional accent to add a finishing touch to your project!
Make cards, scrapbook layouts, gifts and more with these great ideas and colors!
Includes 8 beautiful colors and a storage case for your next scrapbook or card making project!
Note this post contains affiliate links.
Pops of Color Description and Details
Make adding the finishing touch to your project easier than it's ever been with Scrapbook.com's exclusive Pops of Color Collection. This bundle of little bottles each contains perfect glossy liquid embellishment in an essential color palette that will leave fun little accents on your cards, layouts, handmade gifts, and more.
Contents: 8 bottles of Scrapbook.com Pops of Color in gloss finish, and one 1oz ColorCase Storage
Sunshine
Key Lime
Sky Blue
Turquoise Waters
Orange Squeeze
Royal Blue
Raspberry Kiss
Deep Orchid
1oz ColorCase Storage
Pops of Color Features
Dries with 3D dimension
Pointed tip for precise application
Glossy finish
Easy squeeze bottles
Water-Based
Use to write, stencil, & freehand create
Fits perfectly in the 1 oz ColorCase
Downloadable/printable color swatch sheet
Want to make your own custom enamel accents or have perfectly-sized dots in a rainbow of colors always at the ready? It's so easy with Pops of Color. Grab a silicone mat, non-stick craft sheet, or glass mat and go to town making dots, shapes, and swirls in any size and color. Give them a good couple of hours to fully dry and they will pop right off your non-stick surface. A tiny dot of glue is all you need to adhere your custom creations to your project!
How to Use Pops of Color
Unscrew the cap to access the nozzle tip (make sure you remove the red stopper before your first use)
Give the bottle a slight squeeze while aiming the tip at your project
Guide the Pops of Color into dots, words, shapes, or strokes to add color and shine to the area of your choice
Apply in a thin or thick layer until you're satisfied with the coat
Allow the Pops of Color to fully dry (drying time will depend on coat thickness)
Enjoy your amazing project!
You won't be able to contain your excitement over the full range of fabulously brilliant, mesmerizing colors in the Pops of Color line from Scrapbook.com. And when your whole Pops of Color collection needs a place to call home, try this ColorCase (sold separately) to beautifully store 8 of your 1 oz Pops of Color bottles.

Scrapbook.com – Pops of Color – Gloss – Summer Bundle – 1oz – with ColorCase Storage – Kit
Projects Made with Pops of Color
Make some of these creative projects using your Pops of Color Gloss or create your own.

Cultivate Kindness Sunflower Card

Hello Summer Fun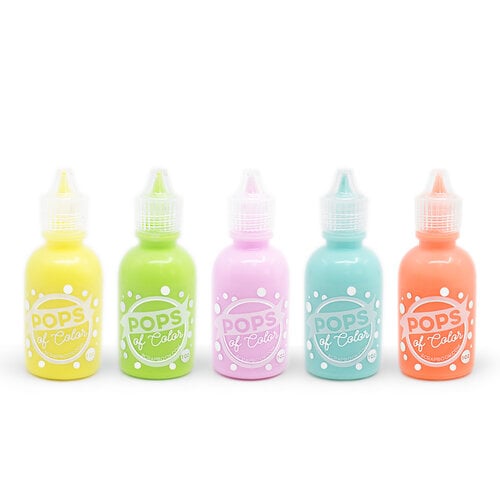 Scrapbook.com – Pops of Color – Gloss – Spring Bundle – 1oz – 5 pack

Scrapbook.com – Pops of Color – Glitter – Sparkle Bundle – 1oz – 4 pack

Scrapbook.com – Pops of Color – Gloss – Summer Bundle – 1oz – with ColorCase Storage – Kit