Build memories that will last a lifetime by creating you very own special photo book featuring your child's school year memories. Include pictures of friends, teachers, field trips, sporting events and more. If you have a child graduating this year this would make an extra special gift to give to them that they could look back on for years to come.  Unlike a yearbook your photo book features your child or children and how their year progressed in photos. Plus it allows you to feature captions, dates, and all sorts of information that is easy to create and add your own select photos to. 
A photo book is easy to create here are some steps in order to get started making your very own photo book filled with your kids school year memories.
1.  Choose a Style of Photo Book that you want to select.  For School year memories best choices can be found 
2.  Choose your photo book size. Size range from 8×8 to 12×12 and everything in between.  I like the smaller books (8×8 or 8×11) because they still tend to hold several photos and I can store them much easier.
3.  Shop for your Occasion – Decide if you want to make a baby book, travel book, family photo album, wedding photo album or yearbook.  The yearbook section is where you will find most of your ideas for the school days photo books.
4.  Start learning how to create your book. How to layout your photos, place your text in your book and select the right colors for your page backgrounds and more.
5.  Organize your photos in one folder on your computer to make it easier to sort them out before you upload them.  You maybe like me and have your photos all over the place.  Take a little bit of time and create a new folder and send all of the pictures from the year that you want to upload to that folder. This way when you go to create your photo book it will be much easier to place the photos and add your captions.
6.  Go to the website and begin creating your photo book. The site will walk you through step-by-step on adding photos, creating a layout and adding your text.  It's easy to do the hard part is deciding how you want your photos on each page. You can add several photos to a page or just one if you prefer.
7.  Once you are done with your photo book be sure to review it for errors and place your order per the website instructions.
Making a photo book filled with your child's school year memories is easy and fun. You and your family will love viewing these memories year after year. 
8. Get Started Creating Your Photo Book for the School Year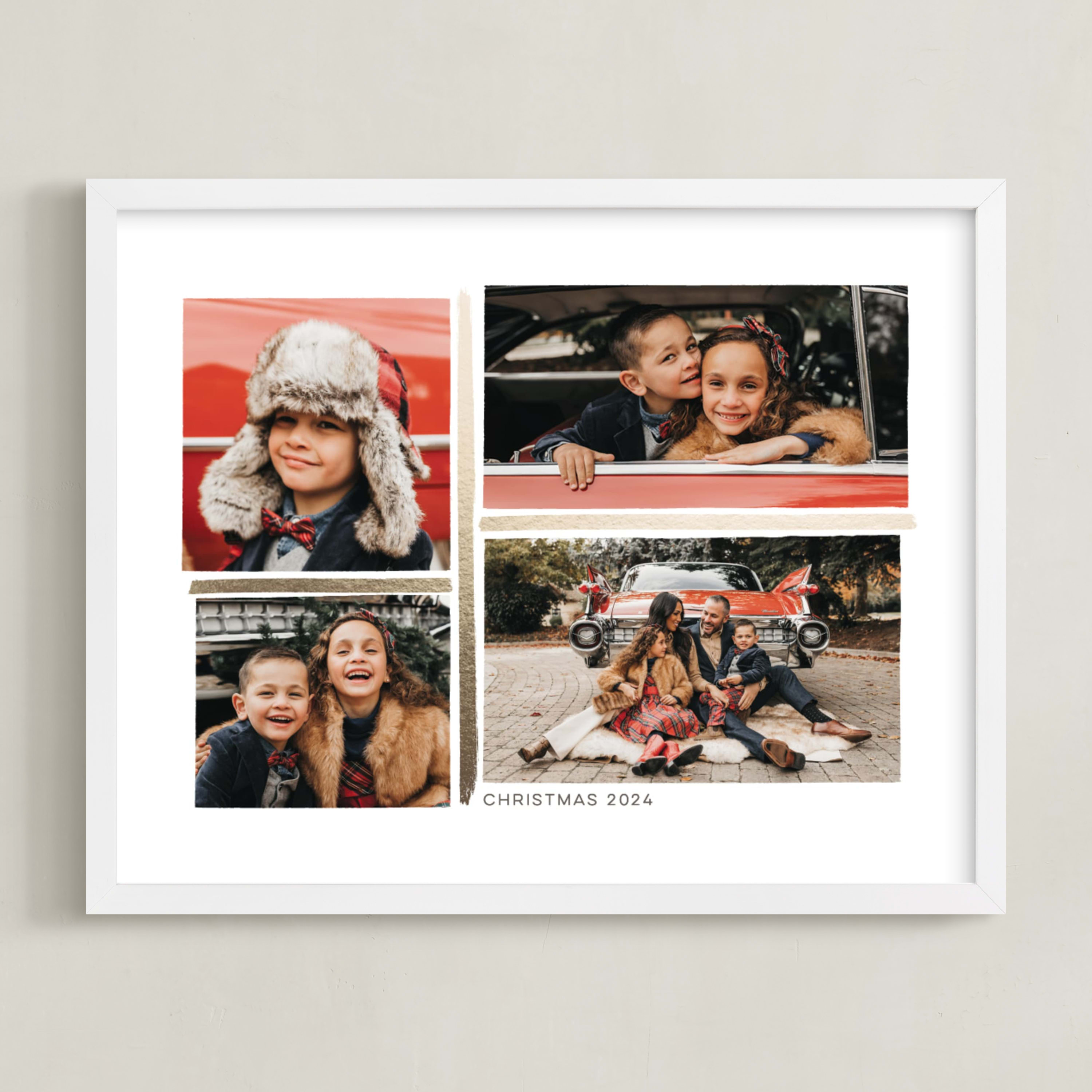 "4 Photo Collage" – Foil Pressed Photo Art Print by Hooray Creative.