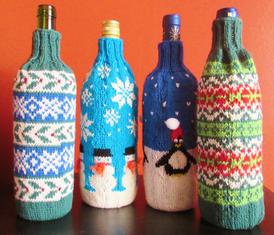 Learn how to make adorable sweaters for wine bottles that can be used to give gifts this holiday season or to decorate your home when guests are coming over. A cozy wine bottle cover is a special way to add an additional touch to a wine bottle or any gift that comes in a bottle.
What better way is there to present a gift item than in a hand-knitted gift bag? The thoughtfulness that went into the gift can be extended to the gift wrap, and this will enhance the recipient's happiness and appreciation.
Instead of cleaning up wrapping paper your gifts will have a hand made touch to them when you knit a pattern from this collection of wine bottle sweater patterns.
Plus these eco-friendly sweaters can be used over and over again without having to throw out paper and saving garbage or recycling costs.
You can easily use yarns from your stash or leftovers because these are smaller projects and can be made in any color of yarn. Fingering weight yarn
is suggested for this project
This pattern includes design charts for four different wine bottle sweaters. Once your gift is received, the recipient can use it to wrap a bottle of wine she intends to gift to someone else. It's the gift that keeps on giving. Share the joy! None of the wine sweaters uses more than 40g of Knit Picks Palette, and two of them use less than 25g total.
Patterns are – Deck the Halls – 9.5″ diameter, Let it Snow – 9.5″ diameter, Chilly Willy – 9.5″ diameter, Monochroma city – 9.5″ diameter
🔽