Learn about Crochet Ripple Stitches – How to Crochet a Ripple Afghan
Crochet a ripple stitch also know as the chevon stitch can be a challenge but there is an easy way to learn. You can learn watching videos or reading how to crochet a ripple stitch it all depends on your how you like to learn. The ripple is a great stitch to add to your routine and there are several ways to make blankets with this stitch. Increases and decreases are used to complete the ripple effect.
note this post contains affiliate links

Subtle Ripple Afghan
There are several ways to create a ripple stitch. The typical version will have a smooth look with few holes or gaps. Some versions will have larger holes or a lace-type look to them. This stitch is perfect crocheters with some skill experience.
You can use any color of yarn for this type of pattern. It looks great when using sweeping colorways with gradient yarn. The amazing pattern is completed with just three simple stitches.

How to Crochet Online Class to Learn How to Crochet
50 Ripple Stitches
One easy way to learn about ripple stitches is to get a reference guide like the 50 Crochet Ripple Stitches. If you have ever had a difficult time learning how to crochet a ripple this book is a great help.
Whether you're just learning how to crochet or would like to add some new crochet stitches to your routine, this book is a must-have reference for your crochet library. You can choose your yarn weight and hook size for any of these 50 ripple stitch crochet patterns. These stitches are perfect for crocheted baby blankets, throws or afghans. Designs range from beginner crochet patterns to advanced and open lacey stitches to solid textured. A PDF download of this crochet pattern book is available.
How Many Stitches are There in a Crochet Ripple Blanket?
If you are creating the standard crochet ripple there are just three simple stitches! It's a great pattern to memorize and work on while watching TV or listening to music.
Most of the time this stitch is used for making blankets but you can make scarves and everything in-between with the ripple. There are a variety of ripple patterns that can be crocheted for blankets. Choosing the perfect yarn colors for your pattern is always the deciding factor.

Reversible Ripple Afghans Crochet Pattern or Video
Chevron or Ripple Stitch
Chevron crochet consists of repeating V shapes in the pattern. The number of multiples you start with is the same number of Vs you'll make. For example, if you choose a multiple of (12 x 6) + 2, you'll have 6 Vs. The width of your project is based on your crochet hook and yarn choice, as well as your tension.
For the normal chevron pattern each "peak" or increase is going to have 3 stitches in 1 stitch, so you need one stitch for the increase. Each "valley" or decrease is going to have 3 stitches worked together so you need to have three stitches for each decrease.
Chevron and Ripple Afghan Patterns
Here are a few of our favorite crochet afghans using the ripple or the chevron stitch
If you are just beginning to crochet check out CROCHET FOR BEGINNERS..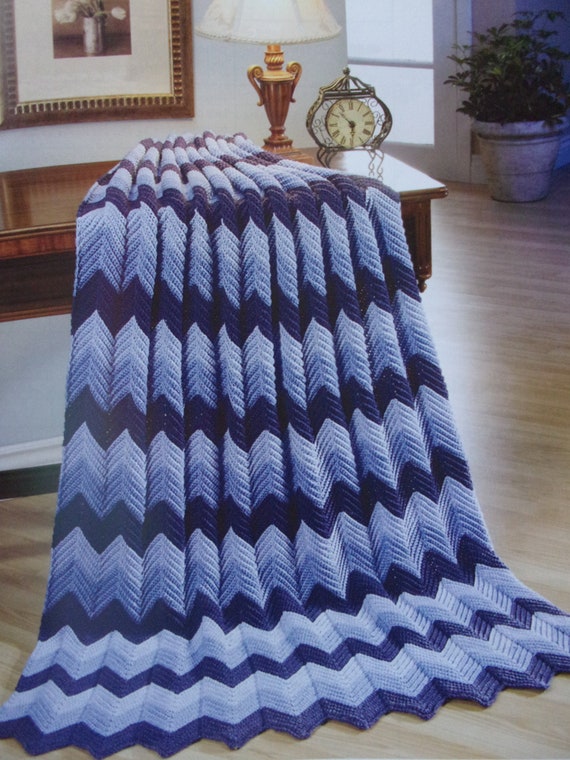 Ripple Afghan Pattern Crochet Afghan Pattern

Ripples Galore – Pattern Only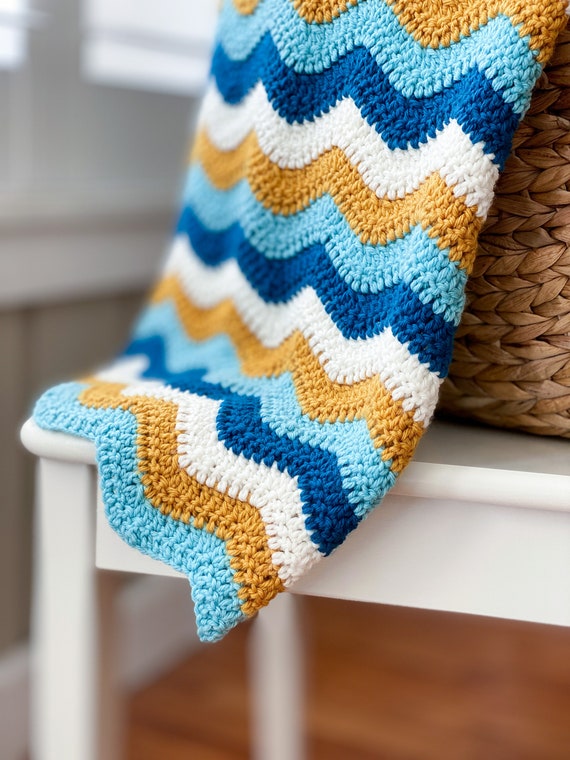 Quick and Easy Crochet Blanket Crochet Blanket Tutorial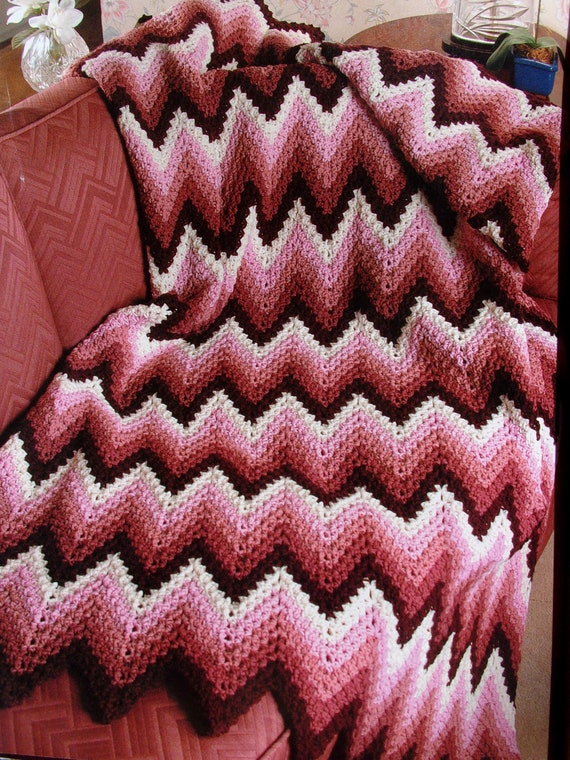 Rosy Ripple Afghan Pattern Crochet Throw Afghan Pattern

Rippled Baby Blanket

Baby Ripple Blanket
Crochet Chevron and Ripple afghan patterns