Bacon and Egg Scarf as Seen on Fuller House
Fuller House has so many people waiting to see it and the Netflix trailer took off with a bang!
Lately, I have seen many Facebook and Social Media posts about the bacon and egg scarf that Kimmy Gibbler is wearing on the
Netflix
trailer. So decided to investigate and found it in the Book 20 Yummy Treats by Twinkie Chan.   In addition if you scroll down this blog post further you will find the free crochet scarf pattern along with how to make the eggs to crochet your own identical scarf.  You may also want to check Twinkie Chan out on her Creative Live Class Page.
20 Yummy Treats
Twinkie Chan 
The original scarf is a pattern that can be found in the book
Twinkie Chan's Crochet Goodies for Fashion Foodies: 20 Yummy Treats to Wear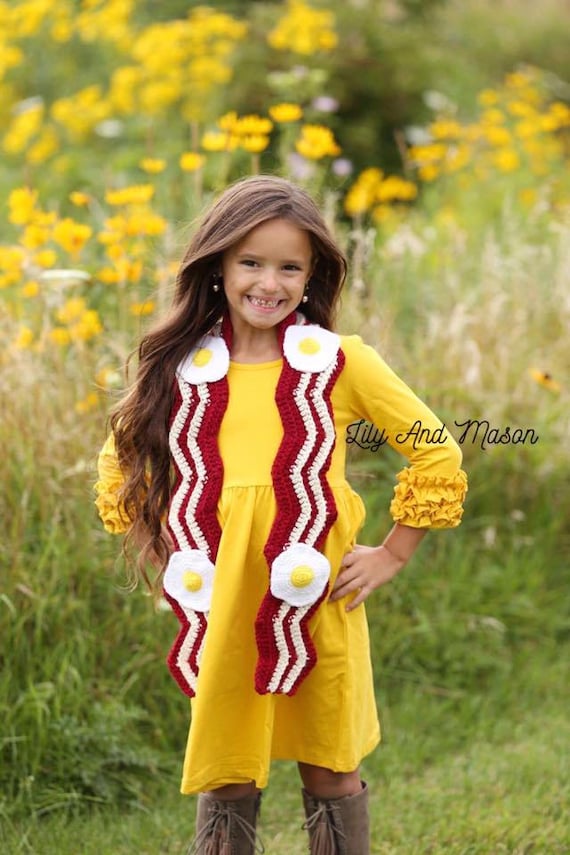 Bacon And Eggs, Crochet Pattern, Crochet Scarf, Bacon Scarf, Egg Scarf, Crochet Bacon, Crochet eggs, Fuller House, White Elephant, PDF File


I did find a FREE Pattern on Raverly for the Bacon Scarf which is technically a Chevron Scarf in Brown and Tan.  View the Free Bacon Strip Scarf On Raverly

As far as the Eggs go you will have to also go to Raverly to View and Crochet the Eggs and add them to the scarf Here is the free pattern for the Eggs on Raverly.
View Her Classes and a few of her patterns that you may want to check out here.
I personally like Bernat Yarn
or Red Heart Yarns
for this Project.  Worsted Weight or even Caron Yarns
would work great.   Knit Picks Wool of the Andes Yarn is also a good yarn.
If you want to get creative the pattern is basically a simple chevron crocheted scarf with eggs added to the scarf.  Crochet the scarf in bacon brown and tan colors and use white and yellow yarn for the eggs.