Polymer Clay Tools and Supplies - 42 Bright Colors, Storage Box and Sculpting Tools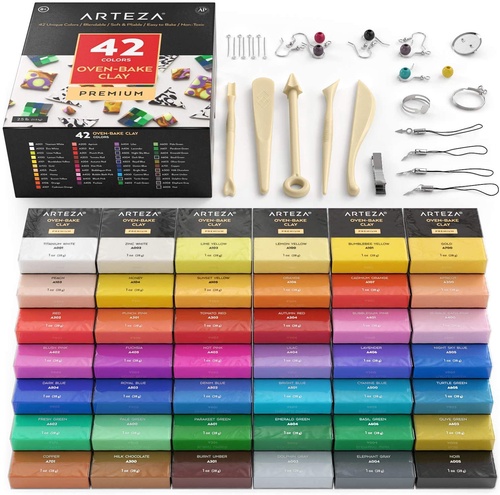 Polymer Clay, Set of 42 Colors + Tools & Accessories | ARTEZA
Polymer Clay (42 colors) - Tools and Supply Kit
Polymer clay crafts are easy and fun, plus with all of the right tools you can create so many items from jewelry to home decor. Wherever your skill and imagination takes you!
note this post contains affiliate links...
The Polymer Clay Set containing 42 colors is one of the best and inexpensive ways to begin or expand on your hobby. It is a
Set of 42 Bright, Unique Colored Blocks; Solid, neon, and metallic colors; Set includes 5 sculpting tools and jewelry accessory pack.
Set includes
Premium Quality; Bakeable, Non-Toxic and ASTM certified polymer molding clay; Soft, easy to shape, non-sticky modeling clay.
What Should You Make with Polymer Clay?
Not sure what to make? Create miniatures, sculptures, earrings, necklace charms, mini animals, flowers and more!
Check out some of the Polymer clay pattern books that we suggest below to spark your imagination and use your Polymer clay kit for.
Learn More about the Polymer Clay Kit
Packed in a Sturdy, Stackable, Storage Box; Ideal for keeping your kit organized; Handle provides easy portability.
Get Your Craft On. Get 65% Off at Arteza. Shop Now.


Books and Pattern Ideas for Polymer Clay Projects

In Clay Creations for All, nine projects feature the following clays from Polyform Products Company: Sculpey III Oven Bake Clay (Bee and Ladybug magnets, Cupcake Charm Bracelet, Blue Bird, and Diamond Mosaic Frame) and Sculpey Souffle Oven Bake Clay (Greeting Card, Switch Plate, Ink Pen, and Covered Mint Tin)
In Clay Jewelry, seven projects feature the following clays from Polyform Products Company: premo! Accents Clay and premo! Sculpey Clay (Ikat Bangle Bracelet, Lentil Bead Earrings, Opal Ring, and Royal Statement Necklace); Sculpey III Clay (Flower Earrings); and Sculpey Souffle' Clay (Antique Necklace and Lots of Dots Bracelet).
Polymer Clay Tools and Supplies - 42 Bright Colors, Storage Box and Sculpting Tools