A good bit smaller than the Garfield, the Pierce is equally imposing and a 'Grande Dame' in its own right. One of our most popular models, the Pierce offers tremendous value at a most reasonable price, with lots of gingerbread, and lots of Victorian charm.




Look familiar? You've probably seen this house in real life someplace in your travels! Our Westville is a replica of a home sold by a mail order catalogue at the turn of the century; we spotted this one in the little hamlet of Westville, New York.




A larger house, the Coventry has two rooms downstairs and a full 'L' shaped attic. We've added two wall shelves, four picture frames and a clock to the nine pieces of furniture, and we've even included a hanging swing for the front porch! Silk-screened windows, flower box and gingerbread. It's all there in this charming dollhouse.




The Sugarplum has a single great room, full attic, two fireplaces, a window bay, front porch with matching settles, chimney, exterior half timber trim, window box and six pieces of furniture!




Our cozy Tudor cottage reflects the designers' research into authentic English architecture. With its picket fence and half-timbered exterior, the house is a visual delight; it has silk-screened windows to simulate leaded glass, and a flower box too. Interior features are equally charming.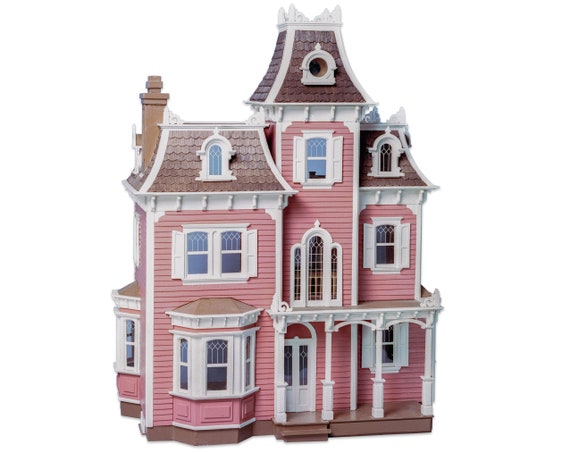 Beacon Hill Dollhouse Kit by Greenleaf Dollhouses



Dignified and grand, the Beacon Hill has become the 'flagship' of our dollhouse line. Its sophisticated exterior is enhanced by a curved Mansard roof, and no detail has been omitted, including even a little window in the cellar!