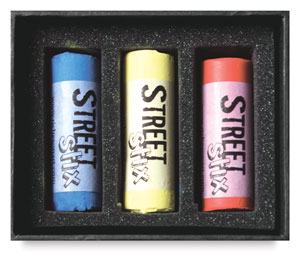 Say goodbye to washed-out, washed-up sidewalk chalk, and say hello to Street Stix Pavement Pastels!
Developed especially for use by street artists, these jumbo-sized,2¾" long × ¾" diameter pastels are rain-durable, making them ideal forlong-lasting sidewalk paintings, murals, and other outdoor art. Their large size makes them easy to use, they blend beautifully, and they resist crumbling when applied to rough surfaces.
Street Stix contain the same vibrant pigments that Richeson Pastels are known for. Choose from 60 vibrant colors and a variety of sets.