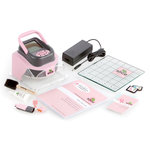 Making Memories - Slice Cordless Design Cutter Machine - Pink, BRAND NEW
View Details and Video Instructions
This little tool can turn ordinary paper and card stock into a variety of die cuts for scrapbooks. It can make a great selection of cuts including alphabets, letters, geometric shapes, photo corners, tags, and more. The pieces range in size from 1 inch up to 4 inches.
Scrapbook.com: Thousands of scrapbooking supplies. HUGE daily discounts!
When purchasing the Making Memories Cutter Machine be sure to read the directions. Once you open the box you may be tempted to get started right away but the directions will help you in so many ways.
First and foremost the machine will need to be charged. While the slice can be operated using electricity it is easier to run using it cordless. And by charging it up right away you won't have to deal with it in the future.
Making Memories Slice Die-Cut Machine Starter Kit
Next you will need to prepare the cutting machine. The slice comes with a tempered glass mat that uses readjustable adhesive to hold the cutting material in place while you are cutting. Apply the adhesive to the mat and allow to dry. Be sure to check the instructions for proper placement.
When choosing a design you will need to insert a design card this is pretty easy to do.
Before cutting for the first time you will want to make sure the blade is placed in the correct position.
This is done by what is called "homing the blade".
Select what you want to cut by using the die cut design of your choice. The graphic interface on the machine is easy to use which makes choosing a die cut fast and simple.
Finally it is time to cut your piece. Once you position your piece on the slice cutter and have it where you want it you can press the button and hang on to your machine. Once it is finished it will tell you that is is done.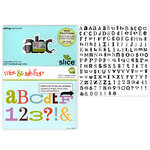 Making Memories - Slice Design Card - Mix and Mingle Fonts, BRAND NEW
View Details...
The fun part about using the Making Memories Slice is creating your die cuts and choosing what design to use next.
Making Memories Slice Design Card, Basic Shapes 2