Free-standing machine. Compact Size: 5 1/4" long x 3" high x 3 1/2" deep. Runs on 2-AA batteries (not included) or A/C Adapter (included). Fits bobbins for most sewing machines except Singer Centaur II and Futura. Extra pegs for storing spare bobbins. Includes instructions for useUsing the SideWinder is as easy as 1, 2, 3!1. Put the thread on the spindle2. Wind the thread to bobbin3. Push button to startPlease click here to view a current list of compatible bobbins for the sidewinder.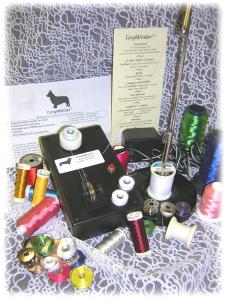 Corgi Winder Electric Bobbin Winder with Single Speed - Great for Prewinding Bulk/Cone Embroidery Bobbin Thread onto Your Plastic or Metal Bobbins
-designed the spindle so that it will now accept Viking Concave bobbins as well as standard bobbins. Current Viking green bobbins will still require a special version of the CorgiWinder. Buy lower bobbin thread in bulk cones. Quick wind beautiful bobbins in seconds. Doesn't tie up your machine with bobbin winding time. Adjustable thread tension control. Power supply and switch. Single cone thread stand. Has tension by-pass and embroidery single-cone thread stand to use as a thread stand as well as bobbin winder. Nearly all bobbins used on current machines will work on the present CorgiWinder, except newer Viking bobbins that will not fit on the Corgi winding spindle. Runs as single speed for uniform tension and winding.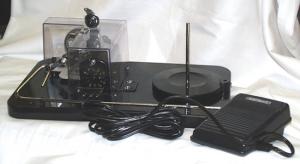 PD60 P60999NS Electric Bobbin Winder, Motor and Platform with Variable Speed Foot Control - for all Standard Class 15, Class 66 and Rotary Bobbins
This compact design bobbin winder works independently of your sewing machine. It is the first complete and easy to use unit ever made. (Finally a bobbin winder that doesn't take an industrial engineer to run.). This unit includes everything you need to wind your bobbins fast and easy. Bobbins easily mount onto a spring type spindle. It comes equipped with a clear plastic safety cover for the motor and bobbin winder to prevent accidental thread tangles. It has a built in thread stand and it has a clip mounted on the platform for easy storage of the mast. The black platform is cushioned to reduce vibration. The thread guide is adjustable so that bobbins wind evenly. The friction drive pulley shuts off automatically when bobbin is full. Includes a high speed motor and electronic foot control.